Every time you eat is an opportunity to nourish yourself! The greatest wealth is health. Healthy body and mind are beneficial for everyone and health should never be neglected. There are several unknown health fruits out there which can contribute a lot in building a healthy body and mind.  For some adventurous eaters who are looking for delicious and exotic fruits that are favorable for their health, we have penned down about some very interesting fruits.
These exotic fruits are not only best for your health but also give you the pleasure of amazing taste and textures. Such fruits are beneficial for your physical as well as mental health. You are familiar with many common fruits like apples, bananas, pineapples, etc. but these fascinating fruits contain their own cocktail of nutrients, minerals, vitamins, and antioxidants that maintain the health.
Limequats
Limequats are a hybrid of lemons and kumquats. These exotic small fruits are available in the market from July to November. Their glossy green outer covering is aromatic and tastes luscious. Limequats are yellow from inside and contain tiny edible seeds. It is full of Vitamin C, folic acid and fiber. You can have Limequats with marmalade or curd recipe.
Limequats were first developed in Florida and it has various varieties which are named after different towns of Florida.
Nutrition Facts
Health Benefits of Limequats
Decreased Infection Risk
Limequats contain Vitamin C just like their parent lemons which keep the immune system work efficiently. Vitamin C is beneficial for the immune system and prevents you from catching infections like cold or flu. It is an antioxidant which controls oxidative stress.
Act as an anti-aging product
This tasty and amazing fruit also acts as an anti-aging product and delay skin aging. If you are a beauty conscious person and are tired of using expensive skin-aging products, then you can make Limequats a part of your diet. Consuming Limequats regularly in your diet will reduce your skin aging as Vitamin C is capable to zap free radicals. It also boosts the production of collagen that makes the skin firm.
Strengthened bones and teeth
Limequats are also a source of calcium which keeps our bones strong and decreases the chances of osteoporosis. It also keeps our teeth strong as calcium and Vitamin C plays a vital role in strengthening teeth.
These hybrid fruits from Florida contain antioxidants which will reduce the risk of cancer. Free radicals damage cells, which can leave them mutated. When that happens, cancer may strike. Antioxidants in limequats zap free radicals before they could wreak havoc to your healthy cells.
Lowered Heart Disease Risk
Limequats keep your heart healthy and reduce the risk of heart diseases. These fruits contain potassium which widens the blood vessels and keep the blood pressure low. They are also loaded with antioxidants which help to prevent cholesterol build up in the arteries.
Risks
Always wash the peels of the limequats as they can cause the transfer of bacteria from the peel to inside while cutting them.
Wakame
unknown health fruits
Wakame is a species of edible seaweed which has strong flavor and texture. You can mostly find Wakame in Japan and Korea. It brings great taste to salads and soups.
Although, it contains low calories but contains a high amount of nutrients which are healthy for the human body.
Nutrition Facts:
Just two tablespoons (10 grams) of raw wakame seaweed offers:
Calories: 5
Protein: 0.5 grams
Carbs: 1 gram
Iodine: 280% of the Reference Daily Intake (RDI)
Manganese: 7% of the RDI
Folate: 5% of the RDI
Sodium: 4% of the RDI
Magnesium: 3% of the RDI
Calcium: 2% of the RDI
Each serving of wakame also contains vitamins A, C, E, and K, as well as iron, copper, and phosphorus.
Health Benefits of Wakame:
 Proper Thyroid Function
Wakame is a great source of Iodine which helps in the production of thyroid hormones. It contains 42 mcg of Iodine per gram. Iodine also helps in supporting growth, metabolism, protein synthesis and cell repair.
Reduced Heart Diseases Risk
Animal and human studies show that intake of wakame helps in reducing blood pressure but more research is required to understand the cause and effect.
Cancer-fighting traits
According to test-tube and animal studies, Wakame can block cancer cell growth but the research remains inconclusive.
May decrease blood sugar
Animal studies show that wakame can reduce glucose production in the body and prevent insulin resistance to keep blood sugar under control. Yet, human research is lacking.
Controls Weight
The extremely low number of calories, carbohydrates, and fats in Wakame helps you maintain your weight. It is known for its fat-burning properties as the compound, fucoxanthin inhibits the accumulation of fat in the cells and stimulates fat oxidation.
Pomelo
Pomelo is one of the unknwon health fruits closely related to grapefruit in appearance but tastes like a citrus fruit.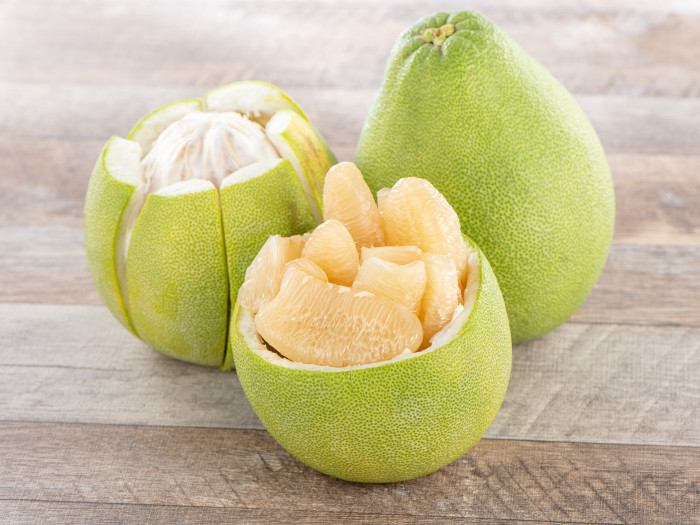 You can find it mostly in Southeast Asia. Its taste is quite pleasant and is normally pale green or yellow in color.
Nutrition Facts
Energy: 38 kcal
Protein: 76 g
Dietary fiber: 1 g
Water: 1 g
Calcium: 4 mg
Potassium: 216 mg
Magnesium: 6 mg
Iron: 11 mg
Vitamin B6: 036 mg
Thiamin: 034 mg
Vitamin A: 8 IU
Vitamin C: 61 mg
Health Benefits of Pomelo
Boosts Immunity
It isn't a terrible idea to eat the entire fruit, considering that each fruit contains approximately 600% of your daily vitamin C requirement. Vitamin C acts as an antioxidant to increase white blood cell activity and attack free radicals, which can damage the organs of the body. It helps to fight off infections that lead to colds, coughs, fevers, and serious symptoms or microbial, viral, and bacterial infections.
Improve digestive health
Pomelo is a great source of fiber. Fiber can help prevent constipation, making one's bowel movement easier to control. One pomelo contains 6 grams of dietary fiber. The daily recommended dietary fiber intake for men and women are 38 grams and 25 grams, respectively.
Control blood pressure
Pomelo is well known because of its high potassium content. It helps to maintain the blood pressure and blood vessel relax.
Reduce aging
Adequate vitamin C intake does not only improve the immune system but can also create and maintain collagen, an essential protein found in hair and skin. Pomelos also contain spermidine, a rare chemical that is found in human sperm, hence the name. This has been closely linked to anti-aging properties as well.
Helps you sleep better in night
Pomelos have a high content of magnesium, which is a mineral that is directly linked to improving the quality, duration, and tranquility of sleep.
Precautions while taking Pomelo
Even though Pomelo has no side effect, yet it is better to take some precautions while consuming the crisp citrus fruit.
People allergic to Vitamin C should avoid consuming the fruit. It is always safe to consult your health doctor when faced with any health problems
Excessive intake of the fruit leads to health complications such as constipation, the formation of kidney stones and more.
Pluot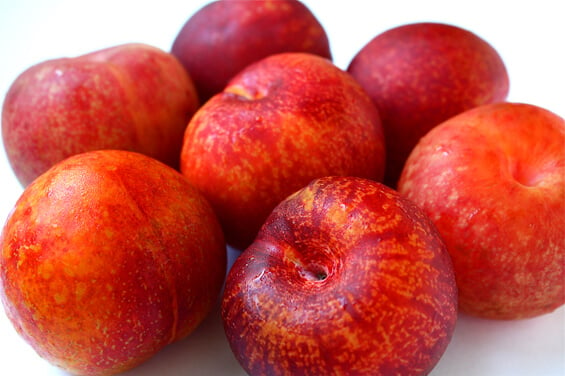 The pluot is a hybrid fruit that contains apricot and plum. It is 60 percent plum and contains 20 varieties each with a unique color and flavor. This speckled stone fruit contains fiber, Vitamin C and Vitamin B.
Nutrition Facts
A single pluot contains
Calories: 80
Carbohydrates: 19 grams
Fiber: 3 grams
Protein: 1 gram
Fat: Nil
Potassium: 225 mg
Vitamin C: 10% Daily Value
Health Benefits of Pluot
Help in digestion
As pluot is a rich source of fiber, it plays a key role in maintaining our digestive system. Fiber aids to bulk up our stool and facilitates in the digestion of food. It keeps our gastrointestinal system healthy. Furthermore, fiber also reduces constipation, bloating, diarrhea and cramping. In addition to this, it also helps with some serious diseases like Crohn's disease and gastric ulcers.
Healthy looking skin and hair
Vitamin C in Pluots help in the creation and maintenance of collagen which keeps our skin and hair healthy. Vitamin A also keeps our hair moisturized through increased sebum production.
Strengthen the immunity system
A single Pluot contains 10% Daily Value of Vitamin C. Vitamin C is a potent natural water-soluble antioxidant that helps the body develop resistance against infectious agents and eliminates cancer-causing free radicals in the body.
Controlled Blood Pressure
Pluots contain a high amount of potassium and less sodium, which keeps the blood pressure low. Also, fiber helps in keeping cholesterol level low and improving the performance of insulin in the body. It keeps the blood pressure controlled and balanced.
Antioxidant Properties
Pluots are excellent sources of vitamins A and vitamin C. Vitamin A can break down into beta-carotene to boost vision, prevent macular degeneration, protect the skin from premature aging, and reduce the risk of specific cancers. Antioxidants can eliminate free radicals in the body, which can turn normal cells into cancer cells.
Precautions while consuming Pluots:
The sugar content of pluots is higher than in most other fruits, so if you struggle to maintain proper sugar levels in your diet, avoid eating too many pluots. Eventually, the diabetic control of fiber will be outweighed by the high levels of sugar you are putting into your bloodstream! Other than that, enjoy pluots to your heart (and health's) content!
Hubbard Squash
This winter squash is not famous for its appearance. But its generously-fleshed inside make it one of the exotic fruits that are beneficial for the health. Most of the people think that Winter Squash originated in the Americas and Native tribes originally cultivated them for food.
Key Fact: 
Many say that its name comes from the name of an American woman named Bela Hubbard, who allegedly introduced the seeds of this squash to a seed trader who named the plant after her.
Nutrition Facts
One cup of cubed Hubbard squash (about 116g) has 46 calories, 2g protein, 1g of fat, 10g of carbohydrates, 2.5g fiber, and 2g sugar. Hubbard squash is an excellent source of vitamin A, in the form of beta-carotene, and a good source of potassium.
Recommended Daily Intake
In the case of vitamin A, a single serving (1 cup) of winter squash contains up to 60% of your daily recommended intake. This is in addition to impressive levels of carotenoids and other phenolic compounds, which have antioxidant effects on the body. Although the calorie count is quite low, at only 76 calories per cup, roughly 90% of those calories come from carbohydrates, as winter squash has high levels of starch, including pectins.
Health Benefits of Hubbard Squash
Helpful for skin
As Hubbard Squash is a rich source of carotenoids and other phenolic compounds, it helps in improving the appearance of our skin. Antioxidants like those contained in these vegetables can help to reduce oxidative stress and minimize the appearance of wrinkles, age spots, and blemishes, while also speeding the repair process and giving the skin a healthy glow.
Reduces Inflammation
Cucurbitacins are the special mixes found in all squash assortments, just as specific melons and other related nourishments, that are really a piece of the vegetable's cautious component. These terrible tasting atoms won't just keep nuisances and creatures from eating the squash yet will likewise convey calming advantages to the body, killing manifestations of joint inflammation and other fiery conditions, while additionally eliminating by and large oxidative pressure.
Controls Cholesterol Level
There is a lot of dietary fiber found in Hubbard squash (over 20% of your day by day suggested admission), which is known to rub overabundance cholesterol from the body to ensure heart wellbeing. Besides, there are omega-3 unsaturated fats found in this winter squash that will adjust cholesterol levels, bringing down LDL and expanding HDL, which can help anticipate coronary illness and atherosclerosis.
Eye Care
One cup of winter squash has generally 60% of your day by day proposal for Vitamin A, notwithstanding various advantageous carotenoids, all of which can help the strength of your eyes. These cancer prevention agent substances can diminish oxidative weight on the retina and hinder the advancement of macular degeneration, just as decrease the movement of waterfalls.
Induces Sleep
The magnesium found in winter squash, notwithstanding other B nutrients and minerals, can control your rest designs by animating the creation of synapses that actuate unwinding and rest. For individuals with sleep deprivation, eating a touch of winter squash before bed can help forestall interferences and guarantee that you feel rested toward the beginning of the day!
Conclusion
These are few unknown health fruits, exotic and extremely healthy fruits for mental and physical health. You can make them a part of your diet and take a number of health benefits from them. Healthy food, Healthy life!